Boeing Should Remain Heavy For More Downside
In Boeing, the broader view suggests that it's correcting the cycle from March 2020 low cycle. While the decline since March 2021 high is unfolding as Elliott wave double three structure with the combination of 3-3-3 swings lower. Favoring more downside towards $167.46- $121.90 target area before it can find support for a 3 wave bounce at least. However, looking at the shorter cycles the decline from the 10 February 2022 peak is unfolding as an impulse sequence as part of a wave 3 within (C) leg lower and should remain heavy on to the bounces for more downside.
Whereas the initial decline to $207.10 low has ended wave ((i)). Up from there, a 3 wave bounce to $219.67 high ended wave ((ii)). Then a decline in wave ((iii)) unfolded in another lesser degree 5 wave structure where small wave (i) ended at $212.67 low. Wave (ii) ended at $215.88 high, wave (iii) ended at $197.82 low, wave (iv) ended at $203.25 high, and wave (v) ended at $186.88 low. Above from there, Boeing is doing a 3 wave bounce in wave ((iv)), which is expected to unfold as a lesser degree zigzag structure, which can reach as high as $199.41- $203.28 area before resuming lower once again.
Boeing 1 Hour Elliott Wave Chart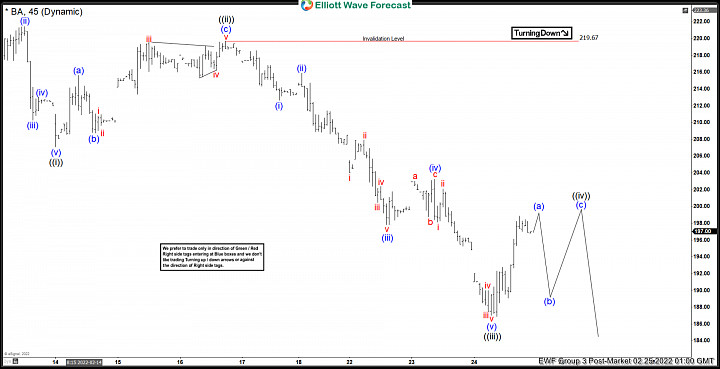 Boeing Elliott Wave Video