Elliott Wave View: Apple Remains Supported
Short term Elliott Wave chart of Apple (ticker: AAPL) below suggests that the pullback to 299.78 ended wave (4). The stock has resumed higher in wave (5) which is unfolding as an impulsive Elliott Waves structure. Up from wave (4) at 299.78, wave ((i)) ended at 306.12 and wave ((ii)) ended at 302.29. Up from there, Apple nested higher in wave ((iii)). Wave (i) of ((iii)) ended at 307.9 and wave (ii) of ((iiii)) ended at 304.82. Wave (iii) of ((iii)) ended at 316.5, wave (iv) of ((iii)) ended at 313.55, and wave (v) of ((iii)) ended at 318.52.
Stock then pullback in wave ((iv)) which ended at 312.70. Finally, the last leg wave ((v)) ended at 320.89 and this also ended wave 1 in higher degree. From there, it corrected the cycle from 5.15.2020 low within wave 2. So far we got 3 swing pullback which ended at the 100% – 123.6% extension area at 312.5. We took the more aggressive view and called wave 2 completed at this level although a break above wave 1 at 32o.89 is needed to confirm this view. Near term, while dips stay above 312.5, and more importantly above 299.78, expect the stock to extend higher. As far as pivot at 299.78 low stays intact, expect dips to find buyers in the sequence of 3, 7, or 11 swing for further upside.
Apple (AAPL) 30 Minutes Elliott Wave Chart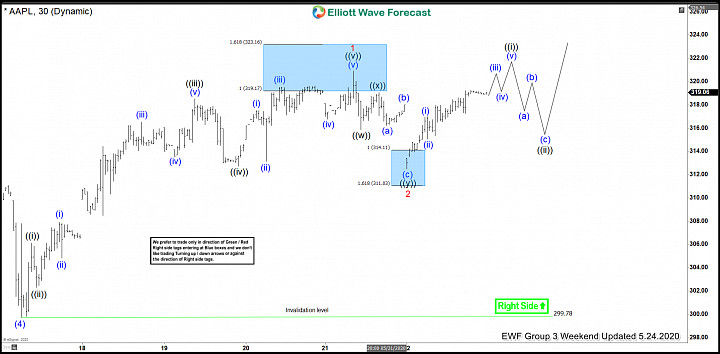 AAPL Elliott Wave Video