Elliott Wave View: S&P 500 (SPX) Testing 2018 High
The rally from December 26, 2018 low in S&P 500 (SPX) remains in progress. We are labeling this rally as an impulse Elliott Wave structure, which is 5 waves structure. In the chart below, we can see wave (3) ended at 2816.88 and wave (4) ended at 2722.27. The internal of wave (4) unfolded as a zigzag Elliott Wave structure. Wave A of (4) ended at 2767.66, wave B of (4) ended at 2796.44, and wave C of (4) ended at 2722.27. Wave (4) pullback ended at our blue box inflection area where wave C = wave A. This blue box area is a high frequency area where both buyers and sellers agree in direction of the next move for 3 waves at least. Anyone who bought the dips at the blue box should now have a risk free trade where stop is at break even level.
The Index is currently in the last wave (5) rally which subdivides in 5 waves of lesser degree. Up from 2722.27, wave 1 ended at 2852.42 and wave 2 ended at 2811.37. Near term, while pullback stays above 2811.37, and more importantly above 2722.27, expect the Index to extend higher. Shorter cycle trend and momentum still points higher and we expect Index to find support in the dips in 3, 7, or 11 swing.
1 Hour SPX Elliott Wave Chart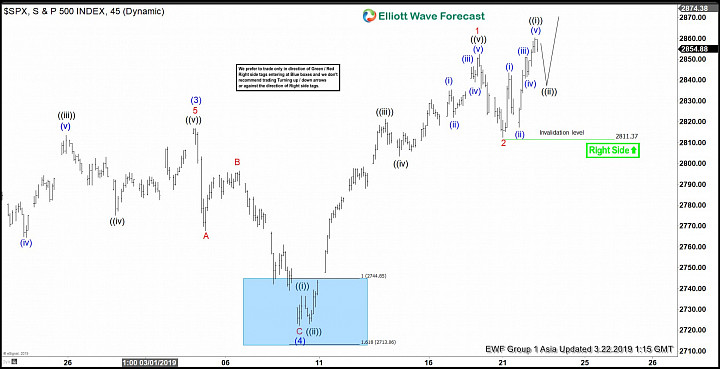 SPX Video of The Day