Elliott Wave View: GBPJPY Recovery Nearing Completion
e,Short term Elliott Wave View on GBPJPY shows the decline to August 12, 2019 low (126.52) ended wave 3. From there, pair is doing a recovery in wave 4 with the internal unfolding as an Elliott Wave double three structure. This suggests the current rally takes the form a corrective structure and the bias remains to the downside. Up from 126.52, wave ((w)) ended at 129.22 with internal subdivision as a zigzag. Wave (a) of ((w)) ended at 127.09, wave (b) of ((w)) ended at 126.75, and wave (c) of ((w)) ended at 129.22. Wave ((x)) pullback corrected the zigzag rally and ended at 127.41.
Pair then extends higher within wave ((y)) with the internal subdivision as another double three in lesser degree. Up from 127.41, wave (w) ended at 129.57 and wave (x) pullback ended at 128.92. Wave (y) of ((y)) remains in progress towards 130.15 - 131.85 area. This rally should also end wave 4 in larger degree. Sellers are expected to appear from this area for further downside or a 3 waves pullback at least. We don't like buying the pair and continue to expect rally to fail in the sequence of 3, 7, or 11 swing.
GBPJPY 1 Hour Elliott Wave Chart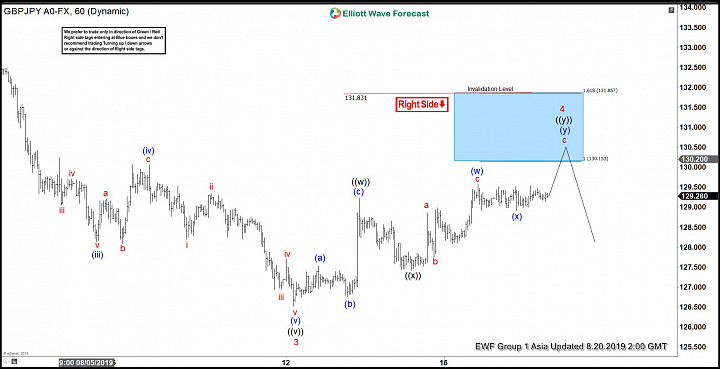 GBPJPY 1 Hour Elliott Wave Video