Elliott Wave View: OIL Can Extend Lower In Correction
Short term Elliott wave view in OIL ( $CL_F) suggests that the main cycle from April 2020 low remain bullish to the upside favoring more upside. Near-term, the rally from 01 November 2020 low unfolded as an impulse sequence where wave 3 of (1) ended at $47.88 high. While wave 4 ended at $45.88 low, wave 5 ended at $49.42 high. Thus completed wave (1) at $49.42 high. Down from there, the correction in wave (2) pullback remains in progress & expected to find buyers in a 3 or 7 swing structure.
Below from $49.42 high, the pullback seems to be unfolding as an Elliott wave zigzag structure where wave A ended at $46.25 low. While in wave B bounce OIL is doing a shorter-term flat correction where lesser degree wave ((a)) ended at $48.15 high, wave ((b)) ended at $46.16 low, and wave ((c)) remain in progress in a lesser degree 5 wave sequence. While in wave ((c)) wave (i) ended at $47.25 high. Wave (ii) ended at $46.94 low, wave (iii) ended at $48.50 high, wave (iv) ended at $47.91 low. Wave (v) is now looking for another push higher approximately towards $48.99- $49.25 area to retest the peak before ending the flat correction & starting the wave C lower while the pivot from $49.42 high stays intact. We don't recommend selling it as the main trend remains bullish to the upside.
OIL 1 Hour Elliott Wave Chart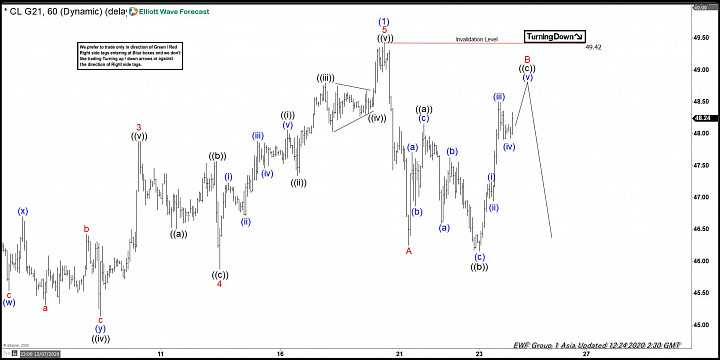 OIL Elliott Wave Video