Silver Elliott Wave View: Impulse Move Favoring More Upside
Silver rally from May 28, 2019 low is unfolding as an impulse Elliott wave structure favoring more upside to take place. The near-term pullback to $14.87 low ended wave ((ii)). Up from there, the metal made a strong rally to the upside and ended wave ((iii)) at $16.58 high. The internals of that rally unfolded in lesser degree 5 waves structure where wave (i) ended at $15.31 high. Wave (ii) pullback ended at $15.03 low, wave (iii) ended at $16.46 high. Then pullback to $16.22 low ended wave (iv) and a rally to $16.58 high ended wave (v).
Down from there, the 3 swings pullback to $16.04 low ended wave ((iv)). While above there, wave ((v)) remain in progress looking to extend higher 1 more time before wave 3 ends & pullback in wave 4 takes place in 3, 7 or 11 swings. The minimum extension area for wave ((v)) of 3 i.e inverse 1.236%-1.618% extension area comes at $16.72-$16.93. From where the metal can potentially see a pullback in 3, 7 or 11 swings before more upside can be seen. We don't like selling the stock & expect intraday buyers to appear in 3, 7 or 11 swings within wave 4 pullback at a later stage. As far as a pivot from $14.87 low stays intact.
Silver 1 Hour Elliott Wave Chart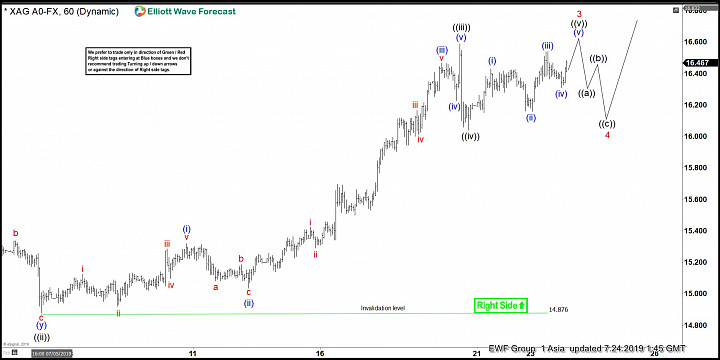 Silver 1 Hour Elliott Wave Video