Elliott Wave View: Silver Remains Supported
Short Term Elliott Wave structure from the chart below suggests the rally in Silver to $17.5 ended wave (3). The metal then pullback in wave (4) to 16.91 with internal structure as a triangle. Triangle is labelled as ABCDE with subdivision of each leg in 3 waves. Triangle is therefore a 3-3-3-3-3 structure. In this case, wave A ended at 16.5, wave B ended at 17.39, wave C ended at 16.83, wave D ended at 17.19, and wave E ended at 16.91. We can also see each leg in the triangle subdivides in another 3 waves.
The metal has resumed higher in wave (5). Up from 16.91, wave 1 ended at 17.77 and wave 2 pullback ended at 17.49. Wave 1 subdivided as a 5 waves impulse structure. Wave ((i)) ended at 17.14 and pullback in wave ((ii)) ended at 16.96. Up from there, wave ((iii)) ended at 17.74, wave ((iv)) ended at 17.55, and wave ((v)) of 1 ended at 17.77. Silver still needs to break above 17.77 to confirm the next leg higher has started and avoid a double correction. We don't like selling the metal. As far as pivot at 16.91 stays intact, expect Silver to extend higher.
Silver 1 Hour Elliott Wave Chart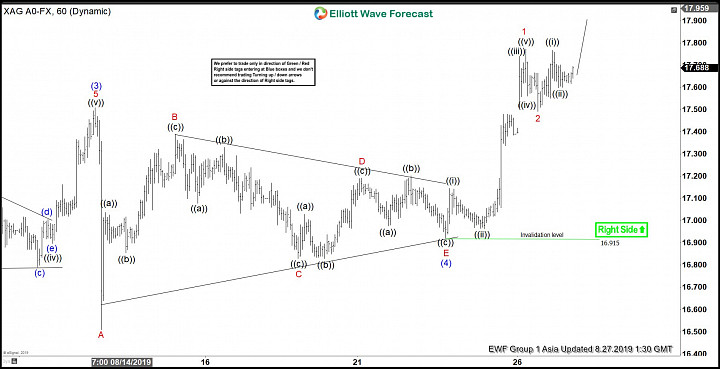 Silver 1 Hour Elliott Wave Video