NASDAQ Elliott Wave View: Extending Higher In Wave Three
Short term Elliott wave in NASDAQ suggests that the cycle from March 05, 2021 low is unfolding as an impulse sequence. Up from March 05 low, the rally to $13287.25 high ended wave (1). Down from there, the pullback in wave (2) unfolded as a zigzag structure where wave A ended at $12681.75. Wave B bounce ended at $13172 high and wave C ended at $12609.42 low thus completed wave (2) pullback.
Above from there, the initial bounce in wave 1 unfolded as a diagonal where wave ((i)) ended at $12881 high. Wave ((ii)) ended at $12676.25 low, wave ((iii)) ended at $12988.50, wave ((iv)) ended at $12807.50 low and wave ((v)) ended at $13003 high. Then the pullback to $12776.50 low ended wave 2 & index has turned higher in a nest within wave 3 of (3) favoring more upside. Near-term, while dips remain above $12609.42 low expect index to extend higher in a nest looking for more upside towards $13689.46 -$14357.63 area higher before a pullback can take place. We don't recommend selling the index and expect dips to find support in 3, 7, or 11 swings for further upside.
NASDAQ 1 Hour Elliott Wave Chart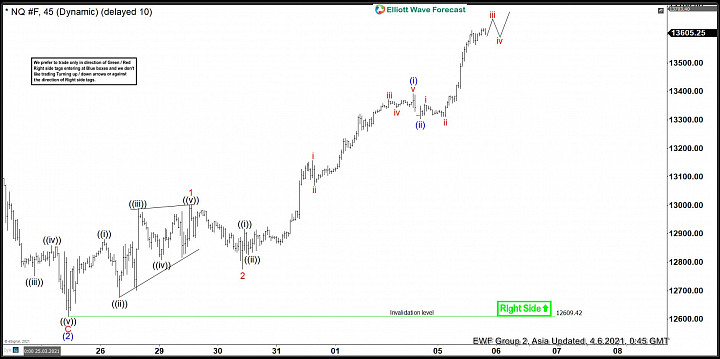 NASDAQ Elliott Wave Video