Elliott Wave View: Amazon Shares Price Recovers
Amazon (ticker: AMZN) shares price has recovered most of the losses due to the weak earnings. Short Term Elliott Wave view suggests the drop to $1617.71 ended wave II. This drop has ended the entire correction which started from July 11, 2019 high. The stock has started to rally and the move higher from $1617.71 low is unfolding as a 5 waves impulse Elliott Wave structure.
Up from 1617.71, wave ((i)) ended at 1672.12 and wave ((ii)) pullback ended at 1644.80. Wave ((iii)) higher is in progress and soon should end as a 5 waves impulse in lesser degree. Stock should then pullback in wave ((iv)) before turning higher 1 more time to end wave ((v)) of 1. Afterwards, expect the stock to do a larger pullback in wave 2 to correct the rally from October 25 low (1617.71) before the next extension higher. While dips stay above 1617.71 low, expect dips to continue to find support in 3, 7, or 11 swing for more upside.
AMZN 1 Hour Elliott Wave Chart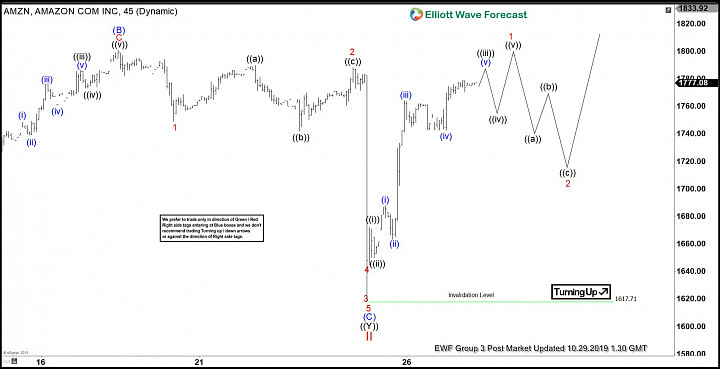 AMZN 1 Hour Elliott Wave Video