Elliott Wave View: Impulsive Rally in Amazon (AMZN)
Short term Elliott Wave view in Amazon (AMZN) suggests that the rally from August 6, 2019 (1743.51) low is unfolding as a 5 waves impulsive Elliott Wave structure. We label the pullback to 1743.51 as wave (B). The stock is currently in wave (C) higher which should subdivide in 5 waves. Up from wave (B), wave 1 ended at 1800.01 with subdivision as another impulse of lesser degree. Wave 2 pullback ended at 1754.90 as a zigzag Elliott Wave structure.
The stock then resumes higher again and we can see an extension within wave 3. In Elliott Wave Theory, wave 3 typically is the strongest and longest wave, often at least 161.8% of wave 1. The move higher has now reached 161.8% Fibonacci extension of wave 1, thus wave 3 is nearing complete. Another leg higher can't be ruled out before ending wave 3 but regardless, wave 4 pullback is expected to happen sooner or later. Afterwards, Amazon should rally 1 more leg higher in wave 5 before ending wave (C) from August 6 low. Potential target to the upside is 100% of (A)-(B)-(C) from August 6, 2019 low which comes at 1859 – 1930.
AMZN 1 Hour Elliott Wave Chart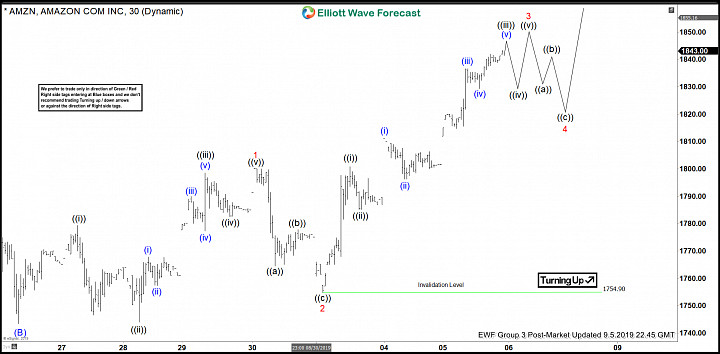 AMZN 1 Hour Elliott Wave Video