Elliott Wave View: GBPUSD Impulse Looking for Further Upside
Short term Elliott Wave view on GBPUSD suggests the rally from June 18 low (1.2505) unfolded as an impulse Elliott Wave structure. Up from 1.2505, wave ((i)) ended at 1.257 and wave ((ii)) pullback ended at 1.254. Pair then rallied higher again in wave ((iii)) towards 1.2727, wave ((iv)) pullback ended at 1.2641, and wave ((v)) ended at 1.2784. The 5 waves move higher ended wave A of higher degree. This suggests that the rally from June 18 low is unfolding as a zigzag in a higher degree. A zigzag has an ABC label and it is a 5-3-5 structure where wave A and C subdivide in 5 waves.
We have an impulsive 5 waves move from June 18 low which ended wave A of this zigzag. Wave B pullback is now unfolding as a zigzag Elliott Wave structure where wave ((a)) ended at 1.2661. Expect pair to bounce in wave ((b)) then do another leg lower in wave ((c)) to complete wave B correction. Afterwards, pair should resume the rally higher in wave C. We don't like selling the pair. As far as pivot at 1.2505 stays intact, expect dips to find support in 3, 7, or 11 swing for further upside.
GBPUSD 1 Hour Elliott Wave Chart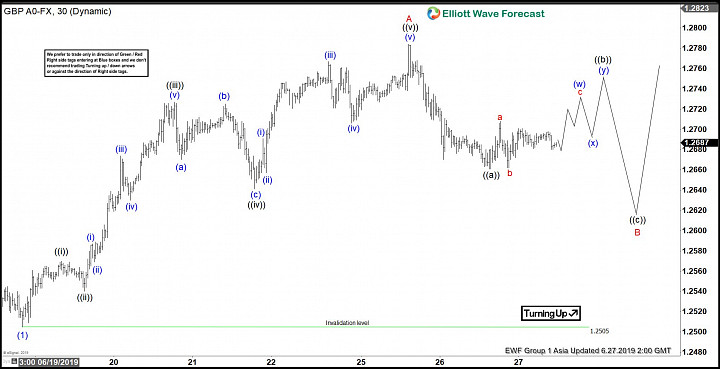 GBPUSD 1 hour Elliott Wave Video